Whether you are Irish or not, it is always fun to celebrate St. Patrick's Day and wear a little green. I figured I would add a St. Patty's touch to my Versatile Earflap Hat Pattern by attaching a great big shamrock.
The pattern I used for the shamrock can be found (free, of course) over at Crochet Spot. Rachel's pattern was easy to follow, and I love how big the shamrock worked up in comparison to this itty, bitty 3-6 month size hat. The next time I make a hat like this I will test out some other ways to attach the shamrock besides sewing around all the edges. I think a little 3D effect could make this hat even cuter. If you give it a try, I would love to see what you do. You can email me at email hidden; JavaScript is required or find me on Facebook and share your creation there.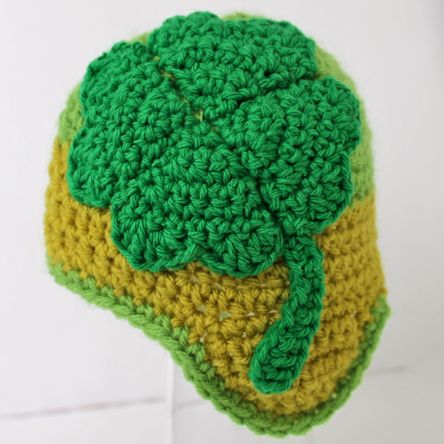 How do you like to wear your green – a hat, a shirt, jewelry, just a little or head-to-toe? Do you have any fun traditions for St. Patrick's Day? I'm thinking we need to start some at our house.
Thanks for stopping by today and have a great week!