This is my youngest, L.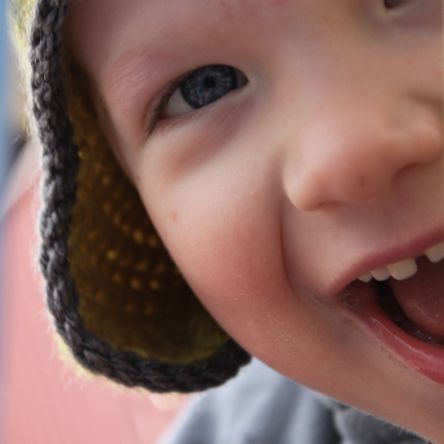 I think he is pretty cute, but he doesn't make it into too many of my photos because he is usually just a blur. That is starting to change and I am so happy!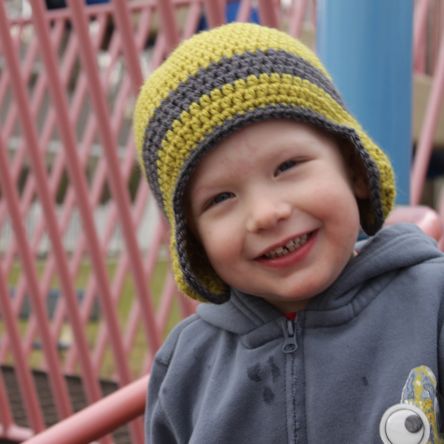 Today I thought I would share the details of how to make a one stripe hat just like L's. You can download the basic pattern here, and then keep reading on for the details.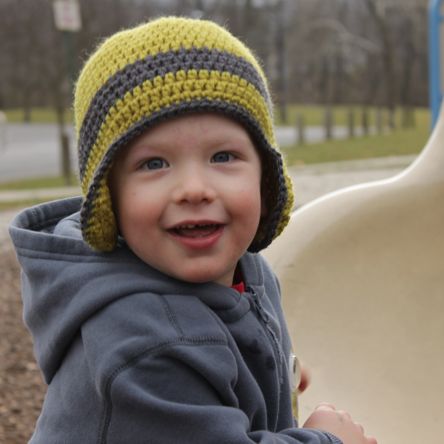 The colors for this hat were inspired from L's favorite googly-eyed lizard hoodie. I used Vanna's Choice in Pea Green (color A) for the main hat and Charcoal (Color B) for the stripe. I will just refer to color A and color B from here on out so that you can substitute whatever colors you like. Now L. is only two and a half, but he is a big guy so I always make him child size hats. Here is what I did:
Child
Work rounds 1 through 13 in color A
Switch to color B for rounds 14 through 16
Switch back to color A for rounds 17 & 18 and both earflaps
Work first edging in color A
Work second edging in color B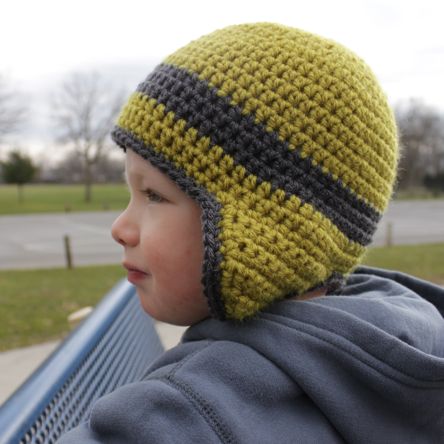 Other Sizes
I haven't made this one stripe hat in any other sizes yet, but here are my suggestions on where to change colors to get the same look:
0-3 Months
Work rounds 1 through 8 in color A
Switch to color B for rounds 9 & 10
Switch back to color A for round 11 and both earflaps
Work first edging in color A
Work second edging in color B
3-6 Months
Work rounds 1 through 8 in color A
Switch to color B for rounds 9 & 10
Switch back to color A for rounds 11 & 12 and both earflaps
Work first edging in color A
Work second edging in color B
6-12 Months
Work rounds 1 through 9 in color A
Switch to color B for rounds 10 & 11
Switch back to color A for rounds 12 & 13 and both earflaps
Work first edging in color A
Work second edging in color B
Toddler
Work rounds 1 through 10 in color A
Switch to color B for rounds 11 through 13
Switch back to color A for rounds 14 & 15 and both earflaps
Work first edging in color A
Work second edging in color B
Teen/Adult
Work rounds 1 through 14 in color A
Switch to color B for rounds 15 through 17
Switch back to color A for rounds 18 through 20 and both earflaps
Work first edging in color A
Work second edging in color B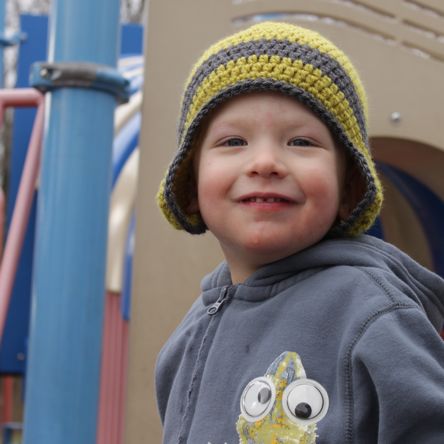 I hope you found this useful, and if you have any questions at all, feel free to leave a comment or you can email me at email hidden; JavaScript is required. Thanks for stopping by and have a great week!