I have always loved the idea of crocheting and knitting with unusual "yarn" sources. I have made napkin rings by knitting wire and a fluffy bathroom rug out of fleece. Those projects had such fun results, so I turned to fabric yarn again when I wanted to make a cover for plain and uncomfortable kitchen stool.
Here are the steps I used to make yarn from a piece of knit fabric.
Step 1: Fold the fabric in half with the folded edge closest to you.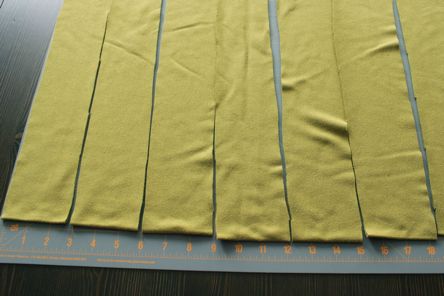 Step 2: Cut into the folded edge at intervals of however wide you want your strips to be (I made mine 3 inches wide).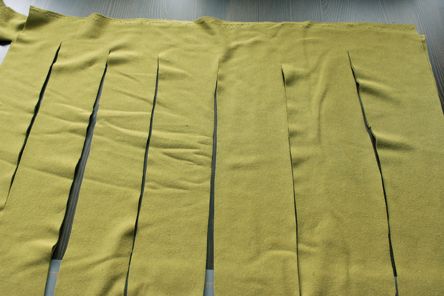 Step 3: Continue cutting across the width of the fabric until a few inches from the raw edges. It is okay if your cuts are not completely straight. Any mistakes will be hidden in the stitches.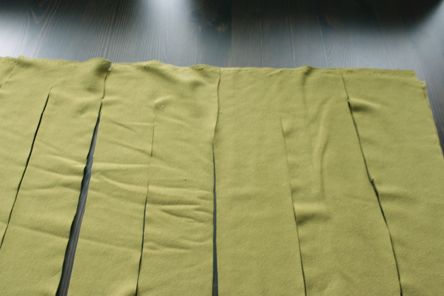 Step 4: Cut through the raw edge of the top layer only on every other cut.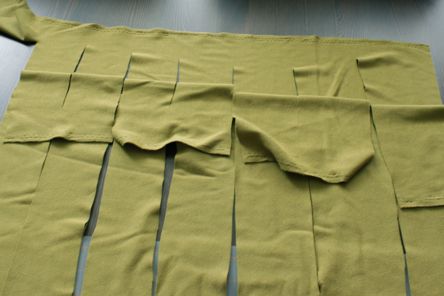 Step 5: Fold the top layer of the fabric back so that you can see the bottom layer.
Step 6: Cut through the raw edge on the bottom layer only on the cuts opposite of the top layer.
Step 7: Trim some of the fabric around the corners off so that there isn't so much bulk in the places when the fabric yarn turns. Again, this does not need to be extremely neat.
My fabric was 2.5 yards long, so I continued using these steps for a few cuts at a time, and crocheted with whatever length I cut until I ran out. Then I made a few more cuts and so on. I found this method easier than trying to wind all of that fabric into a ball. Also you won't cut fabric that you don't need, so you can save it for another project.