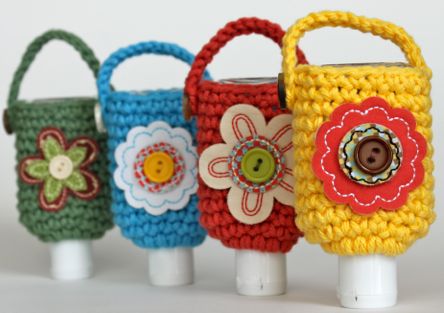 Need a quick and easy handmade gift idea? This free crochet pattern will show you how to make these cute little cozies for the small travel bottles of hand sanitizer (2 fl. oz. size).
They look great on their own…
…or you can embellish them any way you want!
These monsters reside on my boys' school bags to help kill germs and keep them healthy. All the embellishments were cut from felt and sewn on. I'm not going to lie – that took at long time, a lot longer than crocheting the cozy – but I think they turned out adorable and my boys love them.
The cozies in these pictures are going to make great little gifts this holiday season, and they were super easy. The embellishments are just fabric stickers intended for scrapbooking. I actually got mine as a daily deal at PickYourPlum so I can't give you a link to these exact stickers, but I think any fabric embellishments that have a very sticky back will work well.
So go ahead and download the pattern by clicking the download button above and with a little bit of time and a little bit of yarn, you can make this for someone on your list (or yourself) too. I hope you will love it!