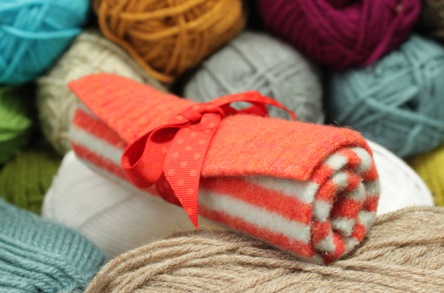 As a craft addict, I have accumulated tons of supplies over the years and have a constant struggle with finding the best way to organize and store things. My crochet hooks are currently stored in an old baby wipes tub. I think they deserve a better home – how about you? So I found an old sweater that had been felted in with my fabric stash and got to work.
Supplies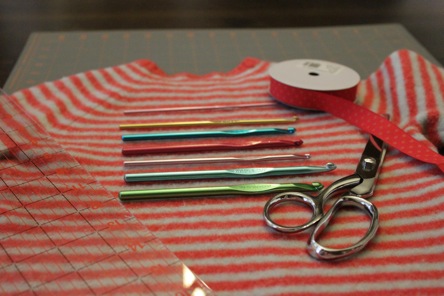 100% Wool Felted Sweater – felting a sweater is so simple and there are great tutorials all over the web, such as here or here
Fabric Scissors
Ruler
Ribbon to tie roll closed
Needle and Thread for sewing (you can use a sewing machine or sew by hand)
Instructions

Step 1: Lay your hooks on top of your sweater and decide how wide you want to cut your fabric. You should make your cut at least 3 inches wider than your longest hook.

Step 2: Make your cuts at your desired width as far up the sweater as possible, and then cut across. My measurements after cutting were approximately 9″ x 12″.

Step 3: Fold one long side up 2″ and pin in place. There is no need to finish the edges; they will not fray.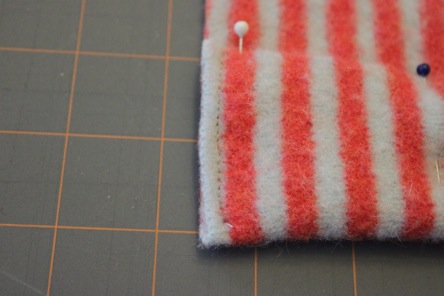 Step 4: Sew a straight line down the edge of the folded part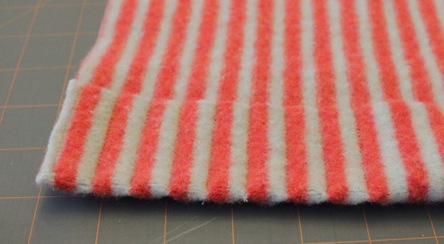 Step 5: Depending on how many slots you want and how wide you want them to be, continue sewing straight lines down through the folded part. To keep things easy, I made my slots even and followed the stripes as a guide. They are about 1/2″ wide and I made 8 slots to hold hooks B, E, F, G, H, I, J and K.

Step 6: Insert your hooks into the slots, fold the top edge over the hook tips and pin in place.

Step 7: Remove the hooks and sew a straight line down the edge of the top fold and a straight line down the top fold at a distance equal the the edge of your last slot.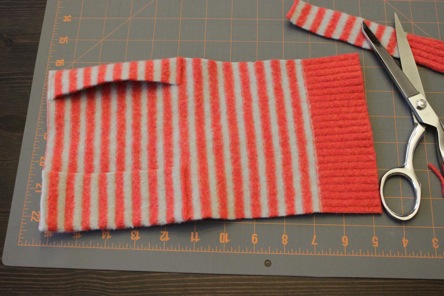 Step 8: Trim the fabric along the folds to the end and next to the last slot on both the top and bottom.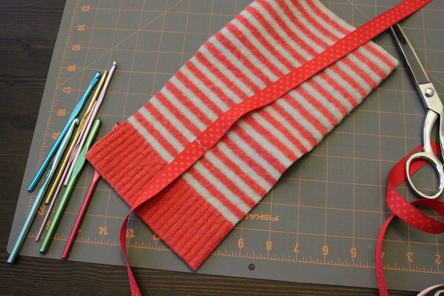 Step 9: Cut a piece of ribbon 30″ long. Sew the center of the ribbon down 3″ to 4″ from the end.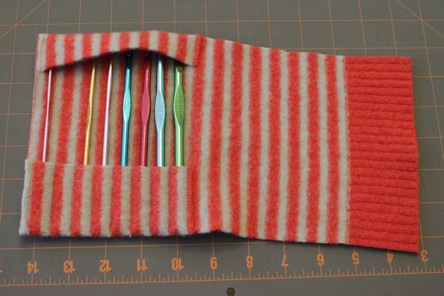 Step 10: Insert crochet hooks.

Step 11: Roll.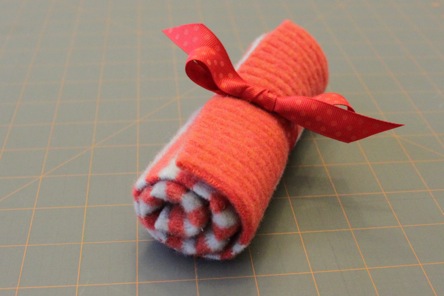 Step 12: Tie closed and trim your ribbon ends to the desired length.
Now you have a lovely place to keep all your hooks, and the best part is you still have the other side of your sweater to make one for a friend!