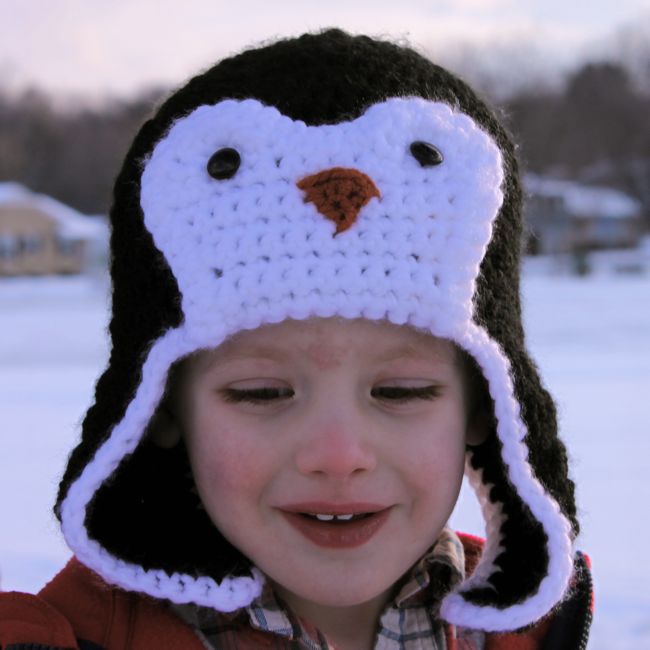 In celebration of the official opening of my pattern store, I am having a huge 10-day giveaway! What better way to start my pattern giveaway than with my very first pattern?!
The concept for this hat started when a friend of mine saw a picture of a bomber hat from the side and said, "Oh my gosh, is that a penguin hat?" I replied, "No, but that's a really great idea!"
And so the Penguin Bomber Hat was born. The front flap of a normal bomber hat was turned into a penguin face shape with buttons for eyes and a beak, and the standard squarish earflaps of a bomber hat were turned into wings.
This hat is adorable for little ones but can also be great for Pittsburgh Penguins hockey fans, Linux Tux lovers, or anyone else with a penguin for a mascot. I think pretty much everyone likes penguins! Plus the pattern has instructions for six sizes so everyone can have one.
So here are your three chances to win this pattern! Leave a separate comment below for each entry:
Tell me who you would make this hat for.
Like Micah Makes on Facebook (just post "AAF" if you are already a fan).
Share a link to this blog post on your Facebook page or blog.
Three winners will be chosen at random at midnight PST, and will be announced tomorrow morning. Also, don't forget to use promo code BOGOHALF in the pattern store only to buy one pattern, get one 50% off through July 31st. Thanks for joining in the fun and good luck! See you tomorrow for the next giveaway!
And the winners are….