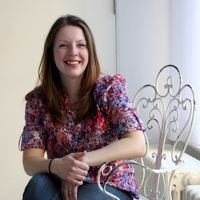 Just like everything else in my life, the news of Inc. Magazine's photo shoot for Etsy sellers in New York City got to me at the last minute. I was excited by the thought of a professional photographer snapping photos in a swanky big city penthouse and the opportunity to be in an actual magazine but with only three days to prepare, I wasn't sure I could make it happen.
The Grand Plan
After getting over my initial fears, I decided it was worth a shot. I started emailing friends, making phone calls and researching my options online. Amtrak was too expensive and driving into the city was too stressful, so I settled on a hybrid. With the promise of a great experience and dinner in the city, I roped in a friend to drive us to Journal Square in New Jersey where we would take the PATH commuter train to 33rd street.
Away We Go
On Friday morning, I put on my newly purchased floral top and matching coral flats with pretty flowers on the toes. It was still cold outside, but I didn't want to look out of place in an April issue. My copilot arrived armed with snacks and GPS and we embarked on the first leg of the adventure.
Traffic was light and the drive gave me plenty of time to finish some adult-sized hats for the photo shoot since I wasn't sure which they would like best. We parked and made our way onto the train. A short ride later we emerged from below into the rush of the big city. The address was only a few blocks away but even after a short walk I could tell my new shoes were going to be trouble.

Gary's Loft
The elevator doors opened to white plank flooring washed in bright light from the skylights above. The loft was gorgeous. An assistant signed me in and we grabbed seats among the other Etsy sellers. The wait was longer than I expected but it gave me a chance to connect with the people there and share experiences selling on Etsy.
Say "Cheese"
When I finally got called back, it was clear the photographer was running out of light and time. He was moving quickly and things felt a little rushed. I grabbed my pink triceratops hat and he started taking pictures. Both the photographer and his
assistant seemed very impressed with the hat and I'm hopeful the fun design and bright colors will increase my chances of being featured in the article.
Despite a 6-hour drive, blisters on both feet and a long wait to see the photographer, I'm very excited for the opportunity for my shop to be featured in such a huge magazine. It was a great experience whether I'm in the article or not. I'll post a follow-up story in April when the magazine hits the newsstands letting everyone know how it turned out. Wish me luck!