Thank you everyone for entering to win my latest pattern, the Endless Entwine Scarf! I really appreciate your support and enthusiasm for my new design. You guys are the best!
And the winners are….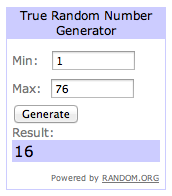 Congratulations to the winners! Be sure to check out my pattern store for this and other great patterns, and save when you buy more with the coupon codes listed at the top right of the page. Thanks again!!